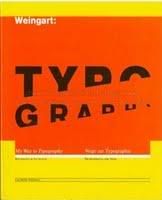 Wolfgang Weingart was born in 1941 in Germany. He is internationally known as a graphic designer and typographer. He is catergorized in Swiss typography & is also considered the "father" of New Wave design & Swiss type.
He first developed an interest for the arts when he moved to Lisbon with his family. In 1958, he studied graphic arts and the Mertz Academy. He later taught at the Basel school of Applied Arts and still teaches a summer class there today.
Weingart said he never forced style on any of his students nor did he ever intend to create a 'style'. He said his students just 'misinterperted' his teachings and pegged it as "Weingart" style.
S. Mueller